Phishing Triage Basics
TruSTAR's suite of Phishing Triage features is designed for skilled security analysts seeking to remove manual, time-consuming tasks associated with the traditional triage process of user-reported suspicious emails. 
TruSTAR automatically ingests suspicious emails, then extracts and enriches the observables from your choice of 15+ intelligence sources to create a single Normalized Indicator Score for each observable. TruSTAR then uses those individual scores to assign a Priority Event Score to the email itself, helping analysts surface the most relevant events for automated or human-in-the-loop investigation workflows.
Related Links
Workflow Links
Activating This Feature
To activate the Phishing Triage feature set, contact your TruSTAR account representative or email support@trustar.co and request activation. The feature activation includes creating two new enclaves:
A Phishing Emails enclave where events (emails) will be submitted and processed.
A Phishing Indicators enclave where scored events are stored.
Activation Options
Two different methods are available for moving indicators from the Phishing Emails enclave to the Phishing Indicators enclave:
Automated workflow: Automatically moves all malicious indicators (Normalized Indicator Score = 1, 2, or 3) from scored emails (Priority Event Score = 1, 2, or 3) to the Phishing Indicators Enclave.
Manual workflow: Automatically moves only the scored indicators (Normalized Indicator Score = 1, 2, or 3) from confirmed phishing emails (triage status = confirmed) to the Phishing Indicators Enclave.
By default, TruSTAR will activate the automated workflow. If you want to change to the manual workflow, please mention this to your account representative or support@trustar.co when requesting activation of the Phishing Triage feature set.
Prerequisites
Best Practices
After your TruSTAR account representative has set up the two Phishing Triage enclaves, you can use the Enclave Inbox feature to set up a dedicated email inbox. You can then use and distribute this email address within your organization as a quick and easy way to submit suspected phishing events.
How It Works     
The Phishing Triage feature provides a powerful, automated workflow that extracts the data you need to fight phishing in our organization.
Submit: Use TruSTAR's Enclave Inbox feature to auto-submit suspected phishing emails to a dedicated private enclave.
Extract: TruSTAR automatically parses the submitted emails and extracts specific observables:
URL
IP address
Hashes: MD5, SHA1, SHA256
Email address
Enrich: TruSTAR uses the observables to automatically query the external intelligence sources you subscribe to for correlations with historical indicators.
Normalize: Each correlation provides a score, but each source uses a different scoring system, so TruSTAR uses Normalized Indicator Scoring to calculate a single comprehensive score for each indicator.
Prioritize: TruSTAR indicates the priority of each email by assigning it a Priority Event Score.
Store: Finally, TruSTAR sends the indicators to the Phishing Indicators enclave.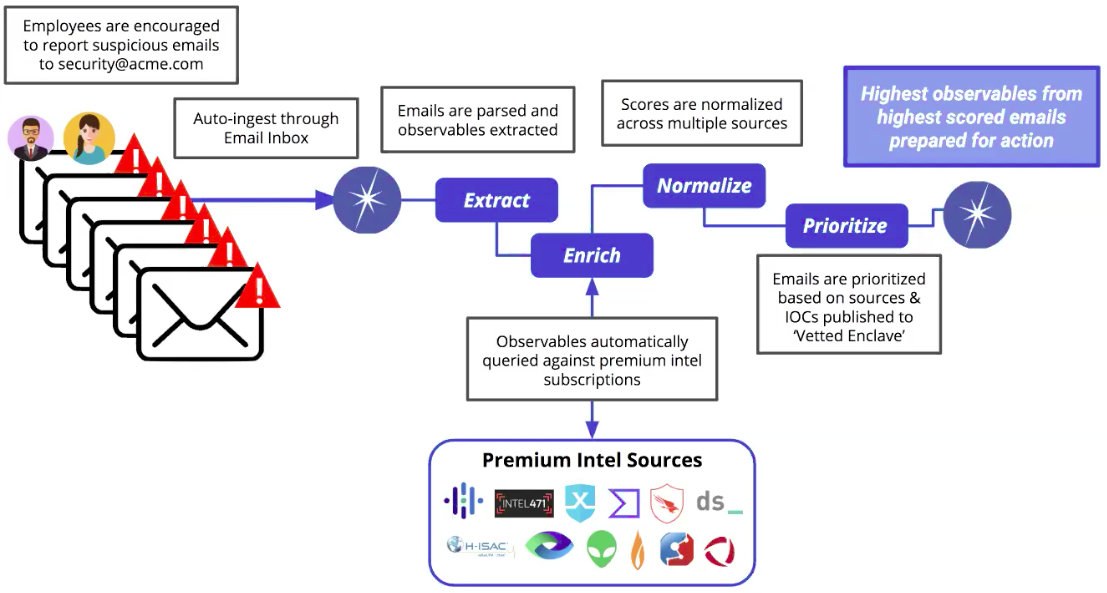 You can use the information in the Phishing Indicators enclave in any number of ways:
Detect: Integrate with SIEMs such as IBM Q-Radar for automated hunting.
Orchestrate: Create playbooks for advanced response and remediation. Demisto and ServiceNow are two TruSTAR integrations that support the fast creation of phishing playbooks.
Disseminate: Automate data sharing with other tools, teams, and groups using TruSTAR's REST API or TAXII server.
---
---