Notifications
The TruSTAR Web App can notify you by email about about important events that involve your preferences or activity on the platform. Notifications enable you to:
Learn if a new report was submitted to any of your private Enclaves
Learn if a new IOC list was submitted to any of your private Enclaves
Learn if a "Watched Keyword" you are following has been mentioned in any new Intel Reports submitted to your private Enclaves
Go to the TruSTAR Web App to see the results of the notifications
Assessing the Notifications Screen
Click User Settings on the Navigation Bar, then select Settings from the dropdown menu. This displays the Settings screen, where you can click Notifications to display available options for notifications.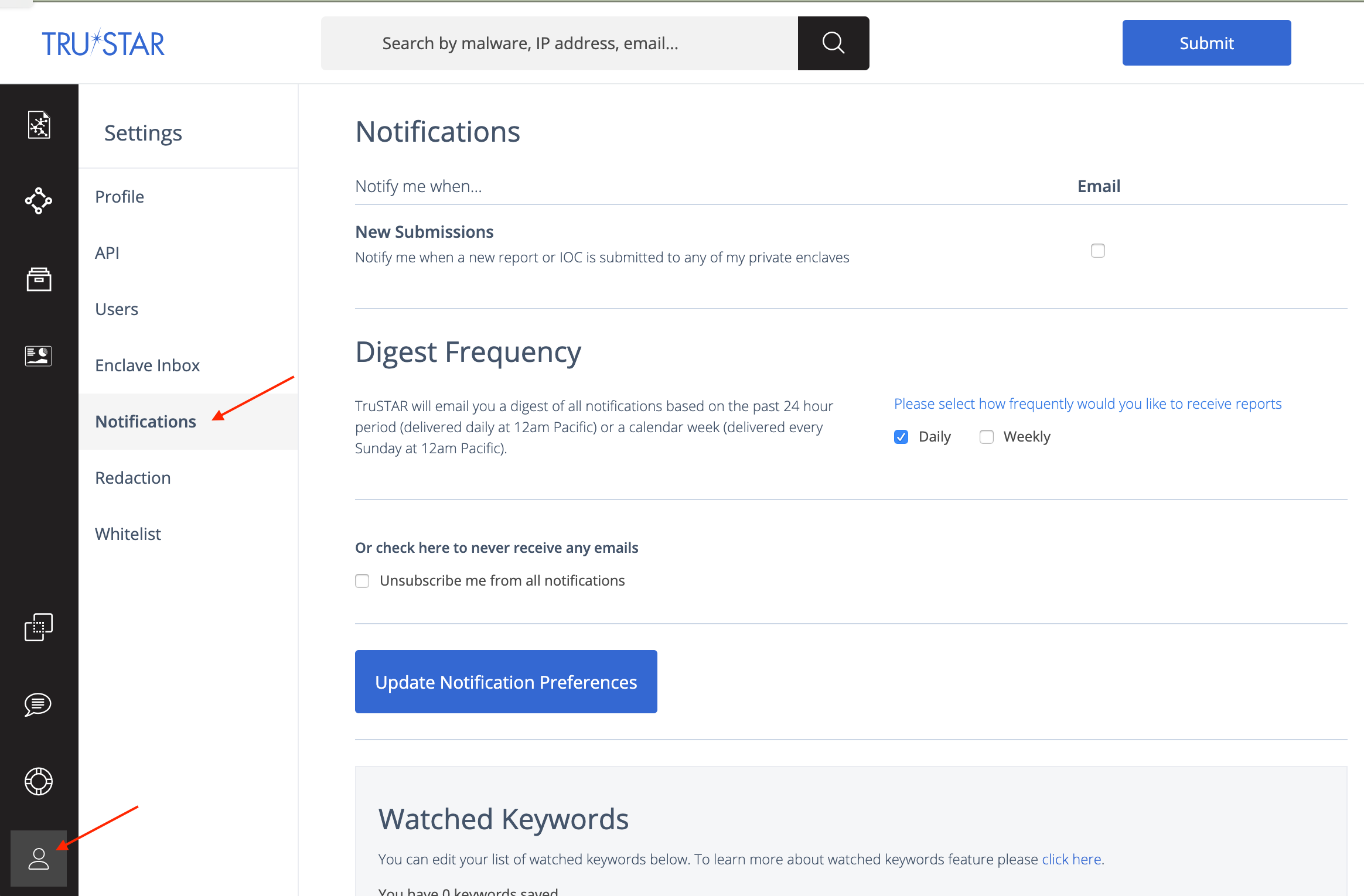 Editing Notifications
You can choose these options for being notified of changes to your Enclaves:
New Submissions: Check this box to receive email notifications about new submissions in near-real time.
Digest Frequency: Check this box to receive a Daily or Weekly digest of notifications.
Unsubscribe Me...: Check this box to stop receiving all notifications from TruSTAR.
After changing your options, click Update Notification Preferences to save the changes.
Watched Keywords
You can follow keywords of interest and be notified by email whenever a new Intel Report submitted to a private Enclave or added to a subscription Enclave contains that keyword.
Adding Keywords
You can add a new Watched Keyword through the Search feature:
Search for the keyword.
Select the Watch Keyword option.

Removing Keywords
To stop receiving notifications, click on the keyword you want to remove in the list of Watched Keywords.
---
---