Export Data
Introduction
There are two ways to get data in and out of the platform; Station (Front-End) or the REST API.

Front-end
Manual Extractions
Please look at download options (screenshots)
Option 1: This allows the user to export ALL correlated indicators exposed in the constellation graph view. Currently this can only be exported as in CSV format. To export all indicators in a visual analysis, click on the download button which is at the top of the constellation.

Option 2: 3 Dots in left hand panel, will provide a file that has indicators from your report and all data sources from the graph including intel reports, correlated reports, and community reports. Download Options: FIREEYE TAP, JSON, STIX, TXT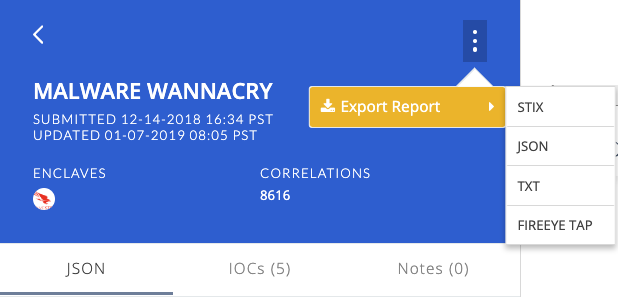 API Report Extraction
IOC data can also be exported in an automated fashion via the REST API. This allows users to pull the latest reports, and indicators are regular intervals if desired.

---
---