Redacting Data from a Report
You can redact terms from an Intelligence Report before you submit it or you can redact terms in an existing Report.
Redacting a New Report
When submitting a new Report to TruSTAR Station, there are two ways to redact information: redacting individual terms or using your organization's Redaction Library.
To use the Redaction feature, you must select the Apply Redaction slider. The items in your Redaction Library are automatically selected when this slider is green.

Redacting Individual Terms
Your Report data is displayed in the Original Content field. Hovering over those items brings up a "Redact as..." (1) button that you can click to redact the item.
Any item that has been redacted will be red in color and hovering over the item will show the original data that was redacted.
Using the Redaction Library
Alternatively, you can use the Redaction Library shown on the right side of the screen to select or deselect terms to redact.
Highlight text in the Original Content window.
Click the Redact Selected Text button on the right. This unfolds to display a list of categories.

Choose the category for the term you want to redact.
That term is added to the Redaction Library. You now see it redacted in the Original Content window.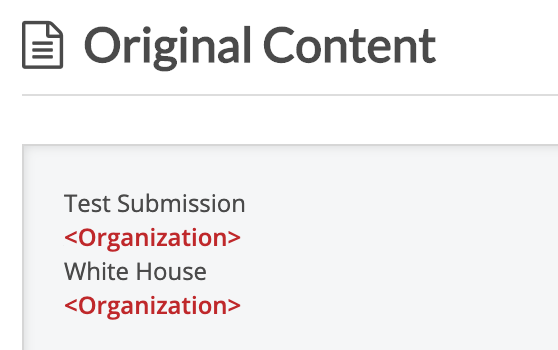 Redacting an Existing Report
When viewing a Report in graph view, you can make edits to the report information.
Click the three-dot menu in the upper right corner of the Metadata section.

Choose Update Report from the dropdown menu.
Click Next to continue.
You can now redact individual items by following the Using the Redaction Library procedure explained above in this document.
Click Update Report to save your changes.
---
---