Marketplace
Introduction
Sophisticated threat intelligence operations require integrating data from multiple sources of intelligence. Marketplace gives you easy access to a variety of intelligence sources, and a new portal for managing these data sources. Our ultimate end goal is to help you reduce data clutter easily and identify which sources benefit you the most.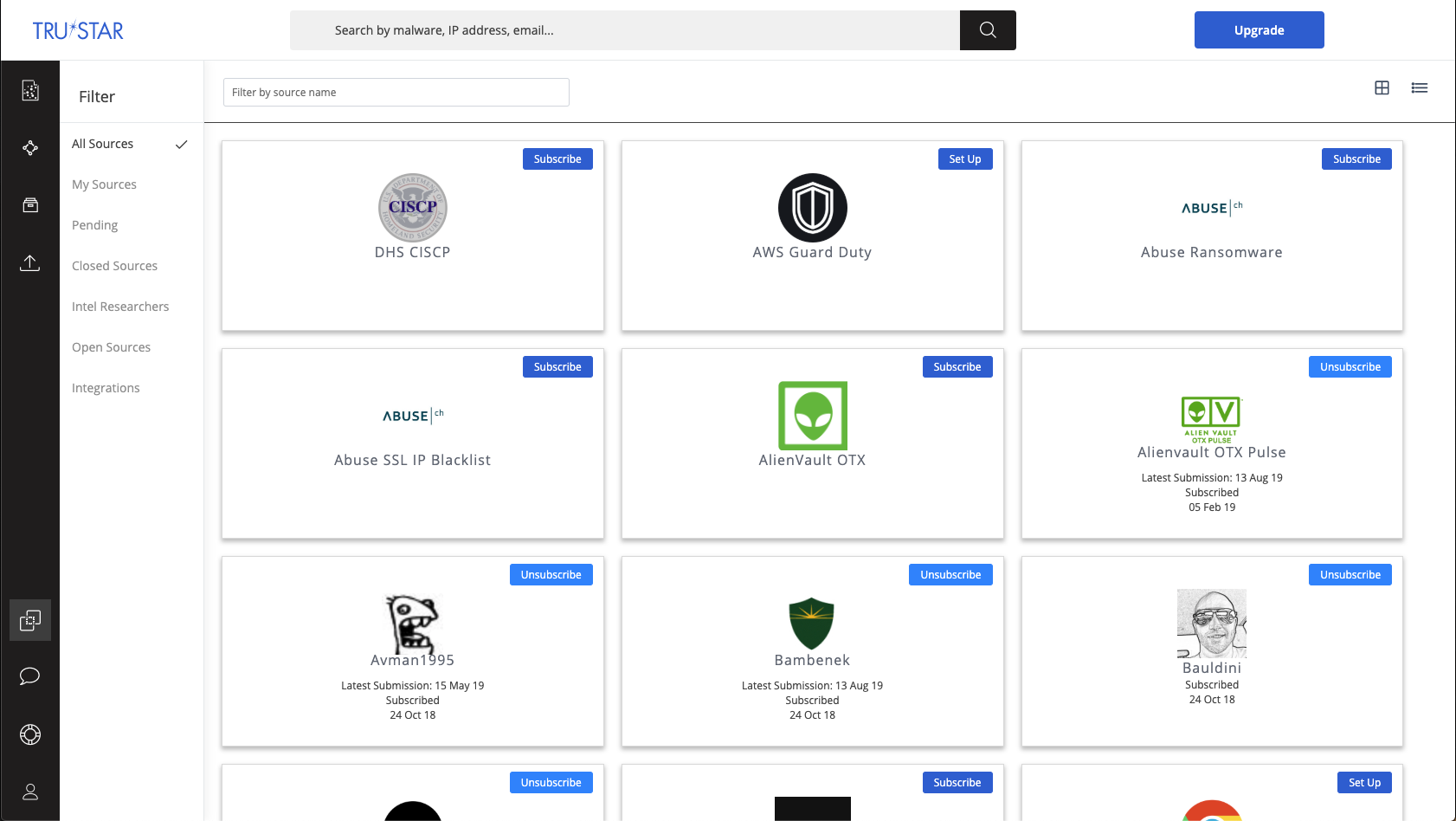 To access Marketplace, click on Explore and you will see the Marketplace menu item in the list on the left.
You need to be a Company Administrator to subscribe or unsubscribe to an intelligence source on behalf of your company. 
After completing the steps the source will be available to (or removed for) all users in your company. Most of the intelligence sources on Marketplace will be available immediately upon subscription, but certain paid and proprietary intelligence sources will only be available after validation of API keys and credentials. 
You can check the status of your data sources in the Pending list under Marketplace. 
We will keep adding new sources to the Marketplace. Definitely let us know if we are missing the ones that you use every day.
Open Source Intelligence
A list of up to date RSS feeds from sources such as: Abuse.ch Ransomware, Abuse.ch - Ransomware, Abuse.ch - SSL Blacklist, Bambanek, BroadAnalysis, DHS-AIS, EU-CERT, Hail-a-Taxii, Hybrid Analysis Public Feed, Infosecisland, Internet Storm Center, MalwareBytes, NIST NVD, Packetstorm, Unit 42, and US-CERT
Closed Source Intelligence
These sources can be added with valid credentials. Some examples include: AlienVault OTX, DHS CISCP, Cisco AMP Threat Grid Feeds, Cisco, AMP Threat Grid Indicator Query, CrowdStrike Falcon Intelligence, CrowdStrike Falcon Reports, CrowdStrike Falcon Stream, Digital Shadows, Facebook Threat Exchange, Farsight DNSDB, Hybrid Analysis, VirusTotal, IBM X-Force, MISP, RiskIQ PassiveTotal, Fireeye iSight, and FS-ISAC
Intel Researchers
Unique from OSINT and paid feeds, our Intel Researchers tab is where you can subscribe to exclusive reports from independent cybersecurity researchers from around the globe. We've curated some of the top independent researchers in malware analysis and their intel reports are now accessible, right in your TruSTAR Enclave. Some examples include: Avman1995, Hasmalware, James_inthe_box, Mak Wana, Malware Traffic Analysis, My Online Security, pancak3lullz, and many more.

Read our blog to learn more!
---
---